Last few years has seen major technology changes and importantly adoption in Real estate sector. While most of the same has been built keeping in mind the buyers, Blockchain in Real Estate could make a significant impact by offering real-time data to ensure secure financial transactions. Considering the monetary value per ticket in Real Estate, transparency and fraud prevention are top concerns and demands of a home buyer, especially in developing markets like India & Blockchain has the potential to positively affect millions and millions of such buyers.
Some ways in which it could improve the current real estate ecosystem
Increase transparency
A typical property sale involves multiple stakeholders: a buyer and a seller, their respective lawyers and estate agents. Currently agents play a significant role in this transaction by ensuring smooth process between various stakeholders happen and transaction goes through the different stages. However that need is largely because there's bureaucracy in the system and there's no clear visibility on the documentation existing for the process to go through.
The blockchain allows all transactions to happen without middle men and with all information recorded in a fully transparent manner
Speed of execution
If all the documents are available transparently the need to search will vanish and verification of the authenticity of documents and transaction will not be required thereby increasing the speed of execution.
Save on costs
With all data available to the buyer and seller at ease, the role of using lawyers and middle men will restrict thereby saving on the costs involved
Security of data
Blockchain allows for secure online data storage which could be used in the future for storing of all property records, including deeds, plats, surveys, title chain, etc.
Different Ownership models
Blockchain could open up newer models of ownerships like shared ownership helping first time buyers to purchase only part of property and proportionately earn rental incomes on the same. A blockchain-powered online ledger could overcome complications on multiple owners by securely and reliably tracking the size and value of individual stakes in the property in the same way as stock in companies is recorded on exchanges
Check this video on Blockchain in Real Estate 
Summary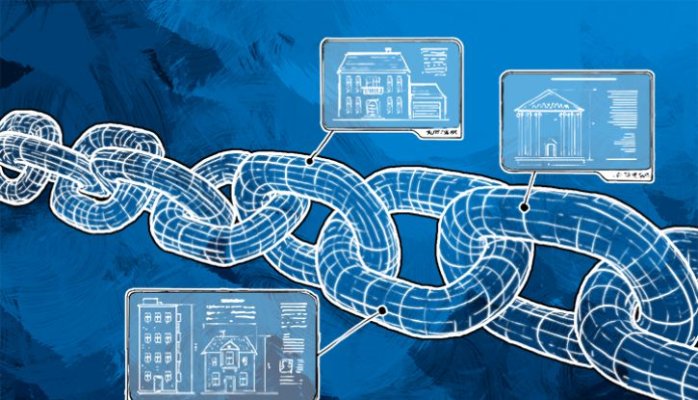 Article Name
Blockchain in Real Estate
Description
Blockchain is disrupting multiple industries including Real Estate. Sharing some thoughts on how it can impact real estate
Author
Publisher Name
Publisher Logo