Globally airports create massive infrastructural developments around themselves which lead to economic growth and increase in real estate demand. The current airport in Pune has seen significant changes in last 12 months and the air traffic is on an upward trend due to automobile, manufacturing and IT industries. Adding to it the fact that Pune continues to be an education hub leads to many foreign and local students come to Pune for education. Therefore, Investment in Pune around new airport is already a hot topic for the real estate market. Rajgurunagar riveted everyone's attention already.
Location Growth
Rajgurunagar is about 40 km to the north of Pune city. It's a proposed site for New Pune International Airport and while Airport Authority of India has already given its approval, multiple level of approvals are still pending for the construction work to finally get started. This location enjoys several economic drivers since it is close to the established industrial hubs such as Telegaon, Chakan and PCMC.
Charoli and adjoining areas like Dhanori provide an access to the existing airport as well as the new international airport. The arrival of new airport will push both economic and real estate growth of several areas enjoying favourable positioning to Rajgurunagar and adjoining areas.
There have been talks about Puradar being the new location for Airport as well. "We decided to grant permissions for carrying out the DPR, as well as the 'obstacle limitation surface' survey for the proposed site. Located near the historic Purandar fort, the proposed airport will be named as Chhatrapati Sambhajiraje International Airport," Fadnavis said, adding that after the acquisition of land, the airport will commence within three years.
Metro connectivity
Metro has also been proposed to connect Bhosari to New Airport. This will be an elevated Airport metro line that will go via Moshi and Chakan. Once this proposal is approved, these areas, which currently aren't growing fast due to connectivity issues, will also enjoy easy connectivity to new Airport, which will make them investment hotspots in the near future.
Currently, apartments are available in the range of Rs 2,500-2,700 per sq ft depending upon the location around the proposed airport. With Metro the prices around this area is bound to go up significantly.
Investment opportunities
With the new international airport, the demand for residential and commercial properties is going to be higher in Rajgurunagar. It will be also higher in it's adjacent areas. The new airport will have excellent road connectivity. It is going to boost the real estate market of all adjoining locations. Proposed metro connectivity will be an added advantage to this infrastructural development. This is likely to lead new opportunities for employment and real estate development in Pune.
Globally, these are critical metrics for any real estate investment and long term these areas seems to give a potentially high yield for investors who invest now.
Timelines for such investments
This new airport will be built by the Maharashtra Airport Development Company Limited (MADC). It's still the land hasnt even been acquired, which means the process of approvals and acquisition will take time. The construction of airports has been beneficial for real estate development. They enhance business activities and boost interest by private companies to set up their offices. Thus leading to more jobs which also infuse confidence in investors and buyers. This is also helpful in pushing demand for residential as well as commercial properties. Therefore, a new airport and metro connectivity are only going to help the real estate market of Pune in the near future. So investment should be a long term view in mind.
While the location, timelines are still not finalized the fact that a new international airport is needed. Which is very much a part of the agenda heeds good for the development and growth of Pune Real Estate
Recent News Articles
Some videos on new proposed Pune Airport
Airports Authority Selects Purandar For International Airport Near Pune: Devendra Fadnavis
Summary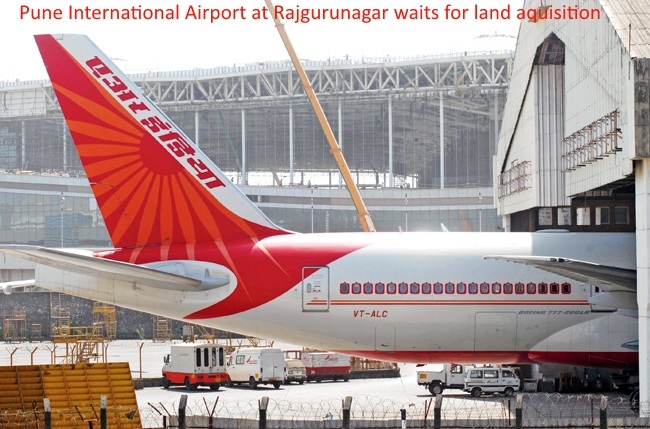 Article Name
Proposed new airport to impact real estate development in Pune
Description
Impact of new airport on Pune Real Estate
Author
Publisher Name
Publisher Logo