Cities For Real Estate Investment in India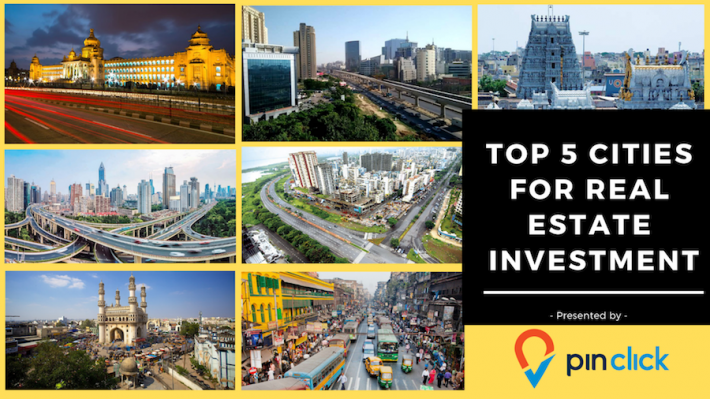 There are many factors that determine how, when, and where you decide to invest in real estate. Some of them include where you live, if you want to live in the house you're investing in. If you want to use it as an investment and earn rent from it, how much are you willing to invest. It depends on how many rooms do you want, what amenities do you want and so on. All of these are questions are important before you make a massive investment. However, if your questions are which kind of cities or areas are a good form of investment in real estate, then here read on about these potential places with a promise on your returns.
Real Estate Investment in Chennai
Considered one of the safest cities in the country, Chennai has had a steady increase in real estate. Also, like all metropolitan cities that are within the Indian heartland and have the ability to expand, Chennai too has expanded to engulf towns and villages around it. Old Madras Road also famously known as OMR is bustling with real estate because of its easy access to Tidal Park, the IT Park. Also if you look at North Chennai, Madhavaram is one area that cannot be excluded in the list. Everything is found in this fast developing area right from Green Buildings, 2 BHK Flats to Luxury apartments,.
Real Estate Investment in Bangalore
Bangalore is also referred to as some as the silicon valley of India. Subsequently, Bangalore has grown, become crowded and expanded. Areas around the IT hub like Whitefield, Marathahalli, Sarjapur Road and Electronic City have become good investment options. It's the best option for the people working around this area. Additionally, areas like Hennur, Devanahalli, and Yelahanka that have easy access to the Kempegowda International Airport are also amongst the more sought-out options.
Pune
Pune is just three hours away from Mumbai, and is the second largest city in Maharashtra. It is also an IT hub. This means that a lot of people flock to the city from time to time in search of work. Some popular areas include Wakad, Kalyani Nagar, and Wagholi is the top three areas that host a good capital profit in Pune. The Mumbai-Pune express highway areas such as Paud Road and Kothrud are also popular since the real estate prices are relatively low. If you are looking for some peaceful residential areas in Pune, then consider buying a home in Pimpri Chinchwad – an area that boasts enormous new residential projects. The city is referred as the most liveable city as per the Ministry of Housing and Urban Affairs' "the Ease of Living" Index of 111 cities.
Hyderabad
This city has seen a lot of interest from the IT industry, this automatically ended up making the real estate better in this city in Andhra. Areas like Appa Junction, Gachibowli and Kukatpally are some of the areas in Hyderabad are certainly attracting a lot of attention from realtors and investors alike.
Gurgaon:
Think IT in the north of India and think Gurgaon. Since it's IT boom it has become one of the places where real estate has picked up. Gurgaon is a host to sprawling penthouses and bungalows with golf courses. Senior executives prefer these luxurious properties for their living. Golf Course Road and Golf Course Extension Road are two posh areas that are effective. Sohna Road,  NH-8, and Sector 43 are also hotspots.
Conclusion
Given that most of these are metropolitan cities, they obviously seem like sure shot options. However, India is a developing country and a lot of investments are taking place in all cities. Cities like Bhubaneswar, Cuttack, Ahmedabad, Visakhapatnam, etc. are also fast becoming great places to invest in real estate.